The best choice to give your celebration a touch of elegance, modernity and tradition.
Marcos del Risco, bachelor's degree in arts. Violin player and Dj producer
Marcos del Risco is a music producer and violinist based in Miami, Florida, bringing a modern twist to wedding entertainment. A classical musician for many years, he offers his talents as a violinist and DJ for dynamic milestone celebrations. Having performed at major events throughout the world, from Cuba to Germany.
Marcos del Risco is the owner of ¨The Miami Events¨ a company that offers entertainment services in South Florida (Musicians, DJ Services, Crazy Hour, Photobooth 360 and Special Effects) to learn more about services, packages and prices you can visit www.themiamievents.com.
I can give your celebration a touch of elegance, modernity and tradition. Wide repertoire that covers various genres and musical tastes, you can choose the songs of your preference (In the repertoire page you can find lists organized by genre, name of the songs and artists) Explain me your needs and I will send you my suggestions.
Miami Violinist specialized in events and shows with modern and traditional repertoire.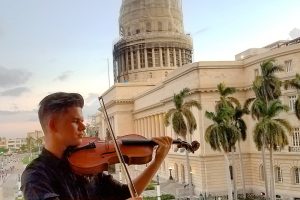 Symphonic musician and classical music teacher. If you wish to receive lessons send an email with your needs to my email.
Live electronic music set combining the interpretation of the violin.
Creator of my own music and personal arrangements.
In this video you could watch different examples where violin can be used in your event. From Birthday, Parties, Weddings Ceremonies, Cocktails, Corporative events, Baby Showers, Reception of guests.
Bella Ciao - Remix Violin Instrumental
Carol of the Bells Violin Trap Instrumental
Mulata Beat Trap Salsa Mix
Marcos is a tremendous violinist and and everything about our event was perfect and the music was what pushed it over the top. Without Marcos there is no party. He was very professional and communicated thoroughly from when I first reached out to him until after the event was over. We got many compliments about his music and his demeanor. I would recommend him 100% for any type or event to add elegance and fun. Thank you for the wonderful evening.
Super, me gustó mucho, éxitos
Espectacular , cinco estrella 🌟
Fenomenal
Marlien Ailed del Risco Pupo
Quedamos encantados con su interpretación. Sin dudas el mejor violinista de Miami.
Preciosa presentación,lo mejor de lo mejor
great expierence.
Very talented and professional..the dj work combined with the violin led light made a fabulous show
I offer you a wide repertoire, from which you can select the most suitable themes for your event. Please describe me your needs and I will send you my suggestions.